AxTraxNG not logging some event
By default AxTraxNG and Rosslare access control panels filter events such REX input open\close and Door output open\close to reduce the number of events to be stored while the access control panel is offline.

To log those events, go to the panel properties screen, options tab, and select the event filter option: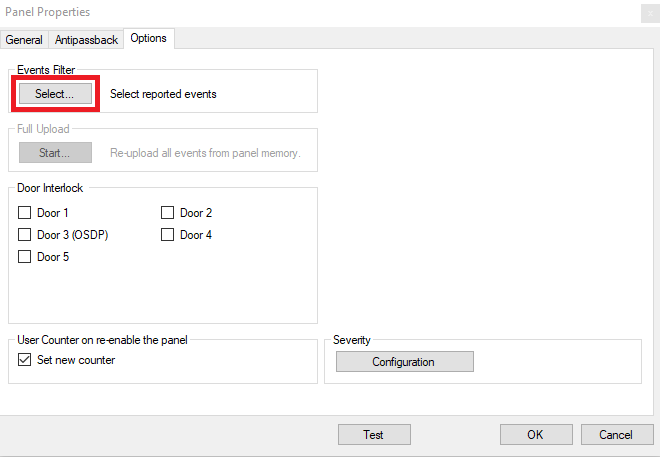 Now select the events you like to log and check them: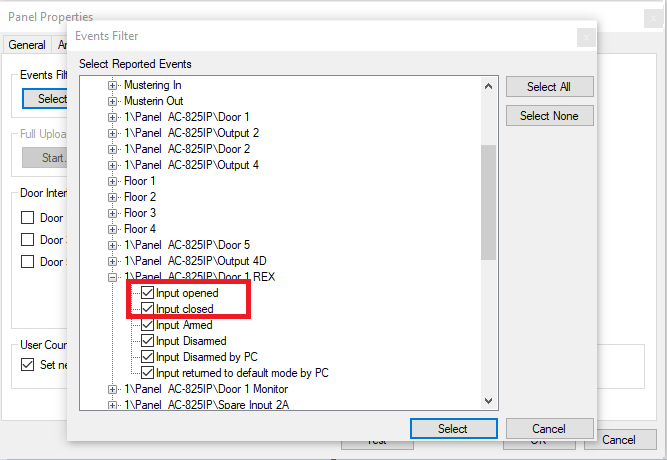 Click select and OK
Related Articles

How to upgrade from AxTraxNG to AxTraxPro

This technical note gives the procedure to upgrade from AxTraxNG™ v27.7.1.18 or above to AxTraxPro™ v28.0.x.x. Upgrade to AxTraxPro is only available from AxTraxNG version 27.7.1.18 and above, if your version of AxTraxNG lower then AxTraxNG version ...

How to set up Email Notification on AxTraxNG

AxTraxNG support email notification using SMTP account for cases like event notification and reports, to set email notification please follow the steps in this article. Setting SMTP account: In AxTraxNG server monitor Go to Option Section: Set the ...

How To Backup And restore AxTraxNG database

Backup Database: To Backup AxTraxNG Database please follow those steps: Go to Tools, Database: From the dropdown menu, Select "Backup Now" Browse to the Folder you like the backup to be stored - Recommend to keep the default folder as shown above to ...

AxTraxNG client shutdown Automatically

On AxTraxNG version 27.7.1.9 and higher version a new auto logout feature was presented. By default Administrator operator will have 10 min of no action on AxTraxNG client before auto logout, all other operators have no timeout. For Administrator ...

What does "Delete Download older than xx/xx/xxx" event means

The "Delete Downloads" events, is standard system operation deleting older downloads that was not downloaded to the access control panels. on normal mode you should see "0" rows deleted if you see other number this can point to communication issue ...
Couldn't find what you are looking for?
Please feel free to contact us:
NORTH AMERICA & CANADA

Toll Free: 1 866 632 1101

Telephone: 1 817 305 0006

EUROPE

Telephone: 972 4 9577 183

LATIN AMERICA

Telephone: 54 11 4001 3104

APAC, MIDDLE EAST AND AFRICA

Telephone: 852 2795 5630

CHINA

Telephone: 86 755 8610 6842

INDIA

Telephone: 91 20 40147830